Specifications
Door specification
Finish: Smooth Painted *
Material: Laquered MDF
Thickness: 22mm
* Please note that newly painted Innova doors have a sheen that is 20% above their natural levels. This sheen reduces to it's natural matt finish over time.
---
Unit specification
18mm rigid kitchen, glue & dowel construction, colour co-ordinated both inside & out, 720mm high (+150mm Legs) as standard.
Hardwearing colour co-ordinated 2mm thick durable ABS edging.
18mm adjustable shelf.
Solid, colour co-ordinated 8mm backs, with a 42mm service void behind.
Blum Clip Top Metal 110 degree door hinges with 3-way adjustment and soft close additionally available.
Fully adjustable 150mm legs for fitting on uneven floors.
Blum Tandembox A Design, twin walled metal sided drawer system with 16mm solid base and metal back incorporating full extension runners with integrated soft close dampers.
18mm MFC Blanking Panel, 500mm wide on all corner base units.
Concealed wall hanging brackets with 3-way adjustment on all wall units. Each pair of brackets can carry 70kgs and conforms to DIN68840. Supplied with wall hanging plates.
Blum 450mm & 500mm tandem on drawer packs.
Cornice/pelmet profile for Luca Alabaster
Cornice/pelmet is available to buy in: Door material only.
Recommended material for plinth(s): Door Material.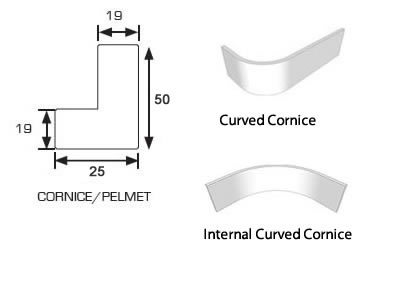 Customer reviews - Luca Alabaster
Ordering the kitchen online was fairly easy only complicated as I required a non-standard unit to be made but the sales team were more than helpful. The only mistake made was on my part as I failed to check the finish on my kitchen and got Luca Alabaster Matt instead of Gloss; this was a good thing in the end as it was repairable after I drilled through a decor end panel.
The installation took a bit of thinking about as I discovered the kitchen floor sloped 1.5cm over its width but once started fitting was very easy and the plinths are set back far enough for the gap not to show.
The build quality was better than expected with thick backs that I was able to set sockets into; and was very handy being ready assembled.
The worktops were fitted by a 3rd party and my only complaint with them being that manufacturers do not make them quite wide enough for peninsular units (there is no overhang when there are doors both sides): this is a general worktop problem, another 40mm would make all the difference.
I found DIY-Kitchens via a search engine.
I have been very pleased with the quality of the product and through canny design have been able to bring in a nice working kitchen at a bargain price.
I did quite alot of research/reviews of internet based kitchen unit suppliers. I decided to go with DIY Kitchens and am impressed with the quality of their units etc. I would certainly reccomend,and use them again.
I found DIY Kitchens from a search with Google.
Please find attach pictures from a kitchen that we purchased from DIY Kitchens

We are very happy with the service provided by DIY Kitchens and we are recommending to all our friends to look at the extensive range of kitchens on offer.
We have been really pleased with everything about our kitchen. Right from the initial order process, to the delivery, through to quality of the product. Even during fitting there was people on hand to offer advice and assistance. We wouldn't hesitate (in fact we already have more than once) recommend you to anyone who is willing to listen! We even considered using your low profile cabinets in our bathroom!

If I could make one suggestion it would be to offer hole plugs and screw covers in the cabinet colours. We managed to find some from a company in Wakefield and it finishes the cabinets off perfectly and improves the quality look further in our opinion.

Many thanks,

Lee