Manufacturing
We are a family run business that has been manufacturing high specification kitchens and kitchen units since 1982.
Our history lies in supplying premium high street retailers throughout the UK. Many of the staff that joined us back then are still with us today!
Originally established in Yorkshire as a small showroom outfit, manufacturing and supplying a single kitchen at a time. Over the years we have invested heavily in people and machinery, gradually developing and growing our business to be able to produce whole kitchens and kitchen doors.
Today we have two 40,000sq ft manufacturing plants with some of the most advanced kitchen manufacturing and assembly lines in Europe.
1982 – First Kitchen Produced by hand.
1983 – Opened first 1490sq ft Retail showroom and factory, started supplying the general public and two other local retailers.
1985 – New 10,000sq ft Manufacturing facility and initial investment in automated machinery.
1986 – First Fully Rigid Glue & Dowel cabinets were manufactured. At this point in time our manufacturing philosophy was established - German quality cabinets produced to UK tastes.
1996 – Moved into one of our current 40,000sq ft purpose built manufacturing facilities.
2003 – diy-kitchens website launched and first kitchen sold online!
2008 - £1.3m was invested in state of the art cutting and edging machinery.
2009 - Our 8,000sq ft freestanding showroom was built and fitted our with 22 stunning kitchen displays.
2010 – The second of our current manufacturing facilities was acquired. Another 40,000sq ft purpose built factory 100m from the first site.
2011 – First factory extended by 25,000sq ft to house a new £1.5m automated cabinet assembly line. Now the most advanced automated cabinet assembly line in the UK, capable of producing 3,000 cabinets per week.
2012 – More automated machinery is due for delivery at both of our manufacturing plants.
2013 – We continue to invest in our manufacturing facilities to allow us to provide customers with the best possible kitchen at a reasonable price.
2014 – Showroom Expansion - Expanded our onsite kitchen showroom to showcase 33 of our fabulous kitchens.
Website
We are the original online kitchen store, trading online since 2004 with over 25,000 happy customers. We are market leaders in supplying online kitchens and are constantly developing our site to make the experience of ordering your new kitchen easier.
'New to the Kitchen Industry, with a new way of thinking. After visiting the big diy chains and numerous kitchen showrooms, I felt there were very few companies supplying good quality kitchens at reasonable prices direct to the public. We had the products; the internet enabled us to deal direct with the public.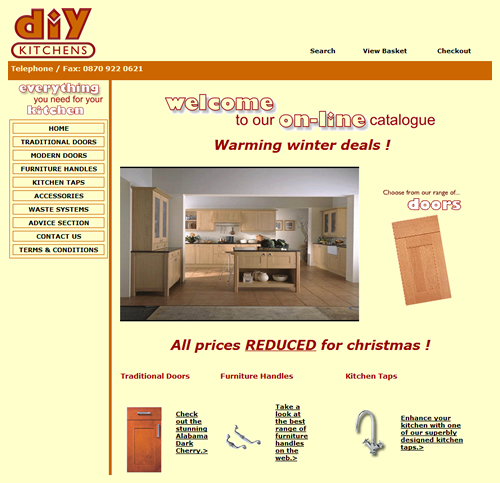 2003 - Current Sales Manager Matthew Ellis joined the business with the aim of supplying showroom quality kitchens online. Initially only supplying doors and accessories to the general public.

2004 – After numerous requests for full kitchens, we launched our first range of cabinets.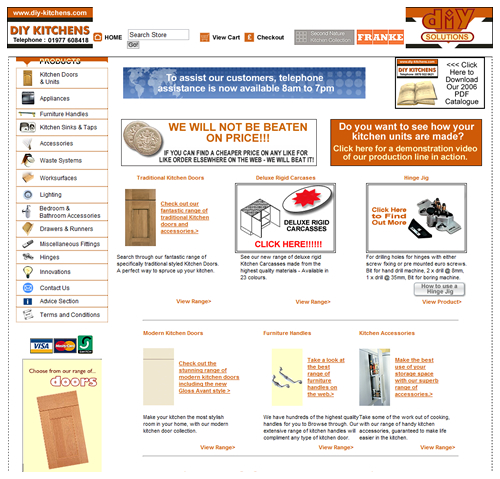 2006 – Introduction of a door matrix that links alls door sizes with relevant cabinets to speed up kitchen order process.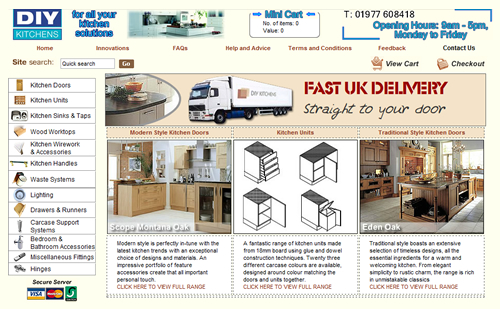 2007 – We started selling Appliances, Sinks & Taps.Leading brands were selected to complement the quality of our furniture Neff, Bosch, CDA & Franke were all introduced to the website.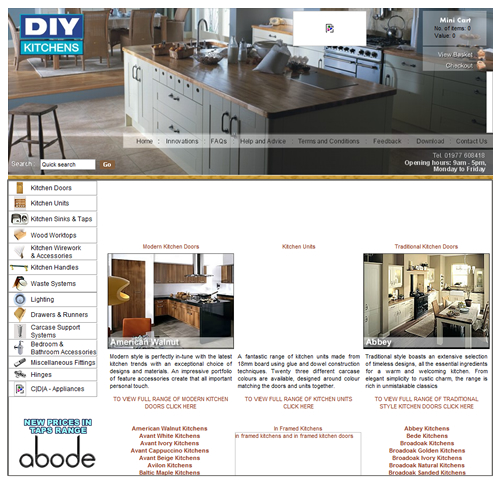 2008 – Laminate worktops were introduced from leading supplier Duropal.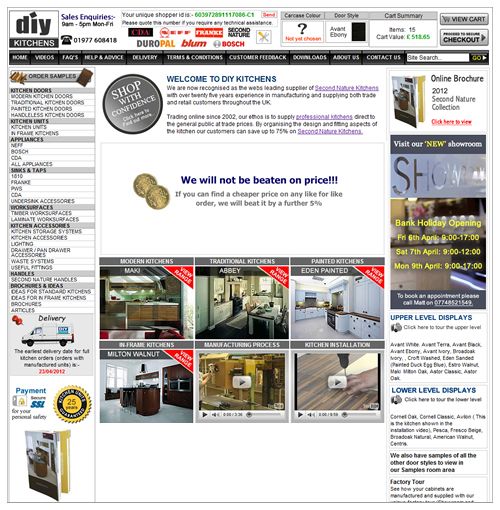 2009 – Bespoke painted kitchens launched, several door styles available painted to any colour of your choice!

2010 – New Innovative shopping cart system was launched to give customers more functionally throughout the ordering process. This included the popular change your style function to allow the comparison of a kitchen order in different door styles.

2011 – Craig Phillips visits diy-kitchens and films several short films exploring who we are and what we have to offer. Along with 8 short Kitchen Guru Videos designed to advise you through the process of ordering and installing your new kitchen.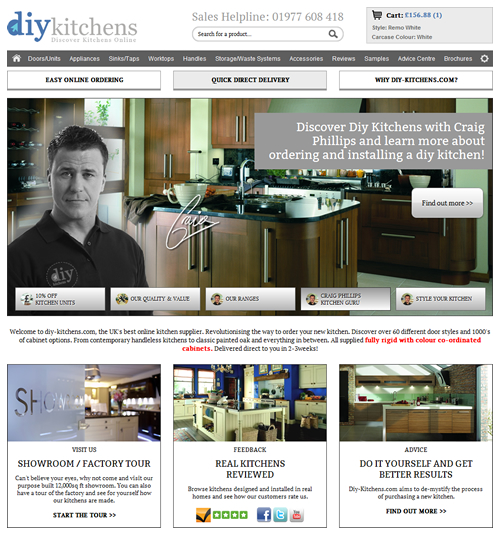 2012 – New website launched with several new features and much more functionality. Highlights include our innovative 'Style your kitchen' tool and filter systems to make selecting the right product for you even easier!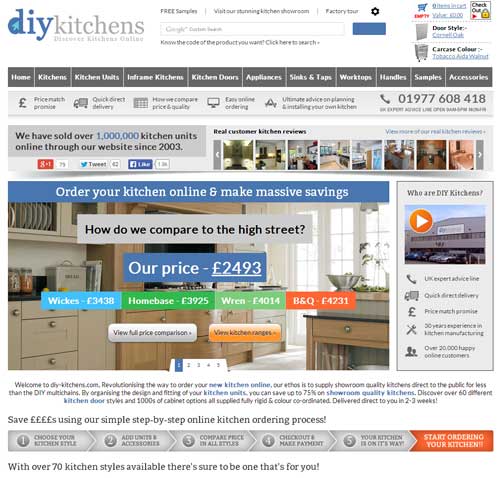 2013 – Our website went through a few usability improvements in 2013 and we added some new content/areas.
We made it easier for you to search for and find what you are looking for, added more kitchen ranges and created a 360 degree virtual tour of our kitchen showroom, so you can see our kitchen styles from the comfort of your own home!
We also created an advice area where we have been sharing kitchen ideas, videos, tips, downloads as well as answering your questions and publishing the answers as they are asked, to help other people who may have similar queries.