Specifications
Door specification
Finish: Matt Textured *
Material: Melamine MFC
Thickness: 18mm
* Please note that newly painted Innova doors have a sheen that is 20% above their natural levels. This sheen reduces to it's natural matt finish over time.
---
Unit specification
18mm rigid kitchen, glue & dowel construction, colour co-ordinated both inside & out, 720mm high (+150mm Legs) as standard.
Hardwearing colour co-ordinated 2mm thick durable ABS edging.
18mm adjustable shelf.
Solid, colour co-ordinated 8mm backs, with a 42mm service void behind.
Blum Clip Top Metal 110 degree door hinges with 3-way adjustment and soft close additionally available.
Fully adjustable 150mm legs for fitting on uneven floors.
Blum Tandembox A Design, twin walled metal sided drawer system with 16mm solid base and metal back incorporating full extension runners with integrated soft close dampers.
18mm MFC Blanking Panel, 500mm wide on all corner base units.
Concealed wall hanging brackets with 3-way adjustment on all wall units. Each pair of brackets can carry 70kgs and conforms to DIN68840. Supplied with wall hanging plates.
Blum 450mm & 500mm tandem on drawer packs.
Cornice/pelmet profile for Cento Graphite
Cornice/pelmet is available to buy in: Carcase.
Recommended material for plinth(s): Carcase.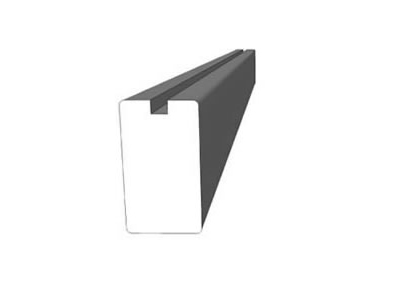 Customer reviews - Cento Graphite
After getting several quotes from the major retailers, i felt we would not be able to have the kitchen that we desired... until my wife discovered DIY-Kitchens from TrustPilot website.

We decided to give them a go... i spoke to a lady called Vicky in sales who requested, i send across itemised quote with designs across to her so she could create me a shopping basket based on a couple of kitchens from their range. This was not easy and for a novice like me, it felt daunting task. Vicky reassured me throughout the process, created me a shopping basket and only then i realised how much i could save. I was interested now.. very interested as the diy kitchen i wanted was 4k cheaper than Howdens, better looking and more importantly, what i wanted.

Vicky suggested some additional changes which saved me £2,000 and created a very usable kitchen. I even requested handles from an image which was not available... Vicky went out of her way to source them. I placed the order and as my house refurb project was running a little late, Diy kitchens had no problem changing dates for delivery which really helped our builders with space. Once the items arrived, we had everything. Not one item was missing. I selected the door fitted option for all units including base, wall, magic corner and larder units... perfect! I wanted a precise finish and yes i was very pleased.

The builder on site commented that the quality was the best he had seen and asked me how much i paid... when i told him, he was surprised and said he will be suggesting DIY Kitchens to his customers and his wife.

Quality of the units was far superior than the competitor, the assembled and door fitting service reduced my labour cost for install by 40%.

I have many jealous friends now :)
The fitter said it was an easy job.
Best quality on the market better than more expensive competitors.
Best quality on the market better than more expensive competitors.
Google search
Some pictures of my newly installed kitchen from DIY Kitchens, great quality and great to deal with.
Just wanted to send you some photos of our finished kitchen, which we are thrilled with. Feel free to share!

Our joiner fits a lot of kitchens but hasn't come across your company before. He is really impressed with the quality of the units and the service we have received and is very likely to recommend you to his other customers from now on.

Great service!

Thanks
Photos of our finished kitchen that we are entirely delighted with.

Please pass on our thanks to all the staff for a first rate job from order to delivery. Please thank Jon in the sales room who patiently helped with my original order and my subsequent request for a few more items that I had failed to request originally.

All our friends are greatly impressed with the finished result and are amazed when they find out that we didnít buy from a high street showroom and saved a fortune by buying from DIY Kitchens!
I enjoyed the fact that I was able to totally design my own kitchen. The website was easy to use and showed all the kitchen combinations in detail. The ordering process was easy and the after order service - excellent! Delivery was when arranged and professional and the fact all units were built was a nice little bonus. I had help in fitting the kitchen and the end result is so much better than we ever imagined. DIY Kitchens was recommended to me by a friend and I would recommend them to anyone else I know - the products and service in my opinion are second to none.
The service provided was excellent, all problems were quickly resolved.

The units themselves were of similar quality to other units that family members have purchased from another company who also use Egger board construction. Theirs however were 3 times the price! The unit build quality was great and the delivery service also very good.

For my kitchen we achieved the floor to ceiling look by cutting down the 150mm legs on a saw. We then routed out the base units to accommodate an Ostermann handless rail profile under the worktop as can be seen. This means no handles are required. The units also have Blum Tip on drilled into them to allow push to open to be available.

The draw fronts were cut down and re-edge banded so that a rail could be housed in between the the bottom and middle draw. This means there are also no handles required on the drawers.
For the worktops, my budget couldnít stretch to Dekton in the end so I used zenith laminate. Splashbacks in grey with changeable colour led strip lighting housed behind a strip of cornice.
The only thing I would change is the oven cupboards. There is no need for the small door front under the oven if the top cupboard had been made slightly larger this would not be needed.