Specifications
Door specification
Finish: Smooth Painted *
Material: Laquered MDF
Thickness: 22mm
* Please note that newly painted Innova doors have a sheen that is 20% above their natural levels. This sheen reduces to it's natural matt finish over time.
---
Unit specification
18mm rigid kitchen, glue & dowel construction, colour co-ordinated both inside & out, 720mm high (+150mm Legs) as standard.
Hardwearing colour co-ordinated 2mm thick durable ABS edging.
18mm adjustable shelf.
Solid, colour co-ordinated 8mm backs, with a 42mm service void behind.
Blum Clip Top Metal 110 degree door hinges with 3-way adjustment and soft close additionally available.
Fully adjustable 150mm legs for fitting on uneven floors.
Blum Tandembox A Design, twin walled metal sided drawer system with 16mm solid base and metal back incorporating full extension runners with integrated soft close dampers.
18mm MFC Blanking Panel, 500mm wide on all corner base units.
Concealed wall hanging brackets with 3-way adjustment on all wall units. Each pair of brackets can carry 70kgs and conforms to DIN68840. Supplied with wall hanging plates.
Blum 450mm & 500mm tandem on drawer packs.
Cornice/pelmet profile for Luca Alabaster
Cornice/pelmet is available to buy in: Door material only.
Recommended material for plinth(s): Door Material.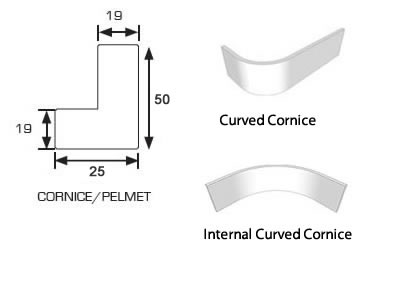 Customer reviews - Luca Alabaster
Ordering the kitchen online was fairly easy only complicated as I required a non-standard unit to be made but the sales team were more than helpful. The only mistake made was on my part as I failed to check the finish on my kitchen and got Luca Alabaster Matt instead of Gloss; this was a good thing in the end as it was repairable after I drilled through a decor end panel.
The installation took a bit of thinking about as I discovered the kitchen floor sloped 1.5cm over its width but once started fitting was very easy and the plinths are set back far enough for the gap not to show.
The build quality was better than expected with thick backs that I was able to set sockets into; and was very handy being ready assembled.
The worktops were fitted by a 3rd party and my only complaint with them being that manufacturers do not make them quite wide enough for peninsular units (there is no overhang when there are doors both sides): this is a general worktop problem, another 40mm would make all the difference.
I found DIY-Kitchens via a search engine.
I have been very pleased with the quality of the product and through canny design have been able to bring in a nice working kitchen at a bargain price.
I did quite alot of research/reviews of internet based kitchen unit suppliers. I decided to go with DIY Kitchens and am impressed with the quality of their units etc. I would certainly reccomend,and use them again.
I found DIY Kitchens from a search with Google.
Please find attach pictures from a kitchen that we purchased from DIY Kitchens

We are very happy with the service provided by DIY Kitchens and we are recommending to all our friends to look at the extensive range of kitchens on offer.
We have been really pleased with everything about our kitchen. Right from the initial order process, to the delivery, through to quality of the product. Even during fitting there was people on hand to offer advice and assistance. We wouldn't hesitate (in fact we already have more than once) recommend you to anyone who is willing to listen! We even considered using your low profile cabinets in our bathroom!

If I could make one suggestion it would be to offer hole plugs and screw covers in the cabinet colours. We managed to find some from a company in Wakefield and it finishes the cabinets off perfectly and improves the quality look further in our opinion.

Many thanks,

Lee
Overall Iím glad I chose DIY Kitchens the quality is very good and because there already made up a heck of a lot of time is saved when it comes to fitting. Doors and draws open/close and run smoothly, the soft close extra is worth it and easy to fit and remove to adjust the doors if needs be.

I ended up buying the Le-mans corner base unit with 2 pull out shelves normally i wouldn't have bothered with one as i used to work in a furniture Auction many years ago and we used to get kitchens in with carousel corner units which always seemed weak to me, so was putting me off getting a pullout type but my wife wanted one and to be honest its well made and very sturdy.

I fitted the whole kitchen myself just a few finishing touches to do and saved money there plus i saved at least 2 grand by shopping at Diy kitchens, the worktop i ended up buying somewhere else because we couldn't decide what we wanted at the time of buying the units.

I'd definitely recommend DIY Kitchens even paying the extra for delivery is worth it because you save big time elsewhere in my opinion.
I have now bought 3 kitchens from you and they have all been designed by myself and fitted by my husband and myself as keen DIY enthusiasts.

I'm absolutely delighted once again with the standard of goods and service received. These units were used in a utility room this time and I would highly recommend them.

Beautiful finished and it's so reassuring that I can get exactly what I order and it makes a renovation project so much easier. I love refurbishing kitchens and Iím looking for another project so that I can submit the pictures for 'Kitchen 4'!
The kitchen is now finished and is brilliant. It gets a lot of admirers and inquiries about where it came from and I am happy to recommend you. I have attached photos so you can see what it looks like.
We were particularly impressed with the transparency offered on the web site with clear pricing and none of the ď50% Off Ends FridayĒ rubbish. The styles available suited us and the units looked good. A initial visit to the showroom confirm the quality and cleared up some questions we had on design options. We made two further visits before confirming our design and then ordering.

The units that were delivered were everything we expected. During install we came across a couple of minor niggles, which were sorted out by the DIY Kitchens Support team immediately and without question. New parts arrived a day or so later. Big credit to them.

You will see from the photos that part of our order was to use as a fitted home office. We went this route after looking at a few specialised fitted office companies and finding their prices to be beyond our budget (really ridiculous). A bit of creativity using various reduced height and reduced depth kitchen units and using some internal drawers gave us exactly what we wanted.

Overall we know we made the right decision using DIY Kitchens. The finished kitchen and office are exactly what we were looking for. Very happy with the quality and service we have received.
I just wanted to say a huge thank you for the excellent service DIY kitchens have given us throughout the whole of our kitchen adventure. We have at last finished everything & moved into our new place so we thought you might like to see some photos of the beautiful kitchen you have helped us create.